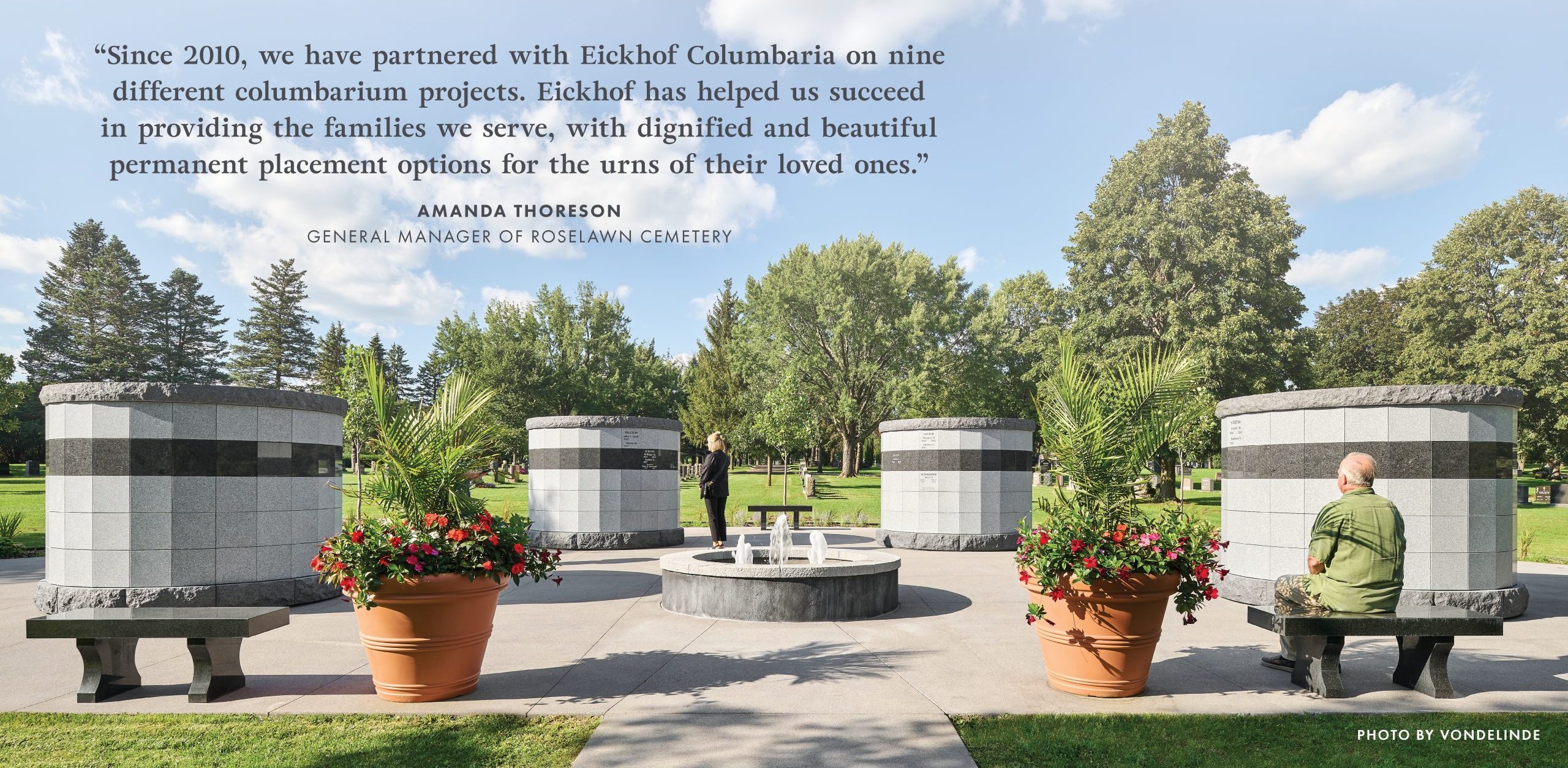 I am especially pleased that we decided to order the York Columbaria with the heavy base. I feel this option accentuates the classic, sleek design of the cylindrical unit while protecting the lower niche doors. Because of the rock pitch finish, we can sweep, blow leaves, and remove snow without worrying about causing damage to the lower row of niche doors.

I think what I like most is that with the heavy base, the lowest row sits 8″ or more off the ground; this allows us the ability to offer an entry-level priced niche without leaving families feeling like they've selected a less desirable location due to funds or lack thereof. If I could make one change to any of the columbaria at our cemetery, it would be to replace the existing skirting with heavy bases. I know the families we serve appreciate them as much as our grounds crew!

Thank you for your wonderful products and seamless service. We are grateful for the opportunity to partner with you as we provide options for permanent placement of urn to the members of our communities.
Amanda Thoreson
General Manager – Roselawn cemetery
Phase I – Two Pre-Assembled York Columbaria
– Niche Fronts Finished in Polished Barre Gray Granite
– Band Niche Fronts Finished in Polished Mesabi Black Granite
– Thick Capstone and Heavy Base Finished in Mesabi Black Granite
– 120 Companion Niches Each
– 240 Urn Spaces Each
– Completed in 2021

Phase II – Two Pre-Assembled York Columbaria
– Niche Fronts Finished in Polished Barre Gray Granite
– Band Niche Fronts Finished in Polished Mesabi Black Granite
– Thick Capstone and Heavy Base Finished in Mesabi Black Granite
– 120 Companion Niches Each
– 240 Urn Spaces Each
– Completed in 2022

Located in Roseville, MN
Location